| | |
| --- | --- |
| | There are pictures of Cupecoy Beach on SXM-Beaches.com. The sand on Cupecoy Beach moves around, but usually there is some you can walk to at the NW end of the beach. Dany, Jean, and the crew serve food and drink. There is free parking there and the beach boys watch the cars. Mullet Beach is one of the largest and nicest on the island and is only half mile away. There is free parking at the beach and there are a couple beach bars serving food and drink. |

A view off the bedroom balcony over
the lagoon to Mt Rouge and Les Mamelles.
In the summer, the sun sets where the boats of the Heineken Regatta
are rounding the NW corner of the island in the upper left

The deck overlooking the Caribbean, Saba and
a cruise ship plus the teak dining set
click to enlarge

Same deck, same teak dining set
looking toward Statia
click to enlarge

Same shot but closer
click to enlarge

Same shot as above but closer
with a three master at anchor
click to enlarge

An America's Cup boat off our porch
with Saba in the distance
click to enlarge

Closeup of the America's Cup boat
click to enlarge
These are photos taken on New Year's Eve from the balcony looking over the Caribbean. Our neighbor owns a casino on the island and has always thrown a party that includes a fireworks display at midnight. At present, the display is anchored on a barge about 50 yards offshore. The grenades burst almost at our floor level. Moreover, the fireworks at Maho are visible from this balcony and the fireworks from La Samanna are visible from the other balcony.

The bedroom with a king size bed
(new upholstery and drapes in 2004)
and the view over the lagoon
click to enlarge

Looking over the living room to the
the dining table on the balcony
click to enlarge
Front and back views of the entire complex.
Unit 255 is on the left side of the rightmost tower on the sixth floor in the view taken from the sea.

Watch sunsets from the living room balcony
from mid-October until late February

Sunset with Saba and Sailboat

| | |
| --- | --- |
| Sunset on the winter solstice 2005 | Mare's tails turning pink at sunset |
| | |
| --- | --- |
| Watch rainbows over the lagoon | This one is pointing to Stew Leonard's house |


The SS Norway used to glide past Saba on its way to Philipsburg
every Wednesday morning as you enjoy breakfast on the Caribbean balcony



A composite photo of a Saba sunset from the balcony.

A view off the living room balcony
on a clear morning, showing four islands.
Nevis is the far left with St Kitts to its right (ESE).
Statia is the twin-peaked island just left of center (SE).
Saba is on the far right (almost due south). Click to enlarge.

---

Saba on a clear morning
---

Statia on a clear morning
---

St Kitts and Nevis on a clear morning
The smudge on the waterline at the left is Nevis
---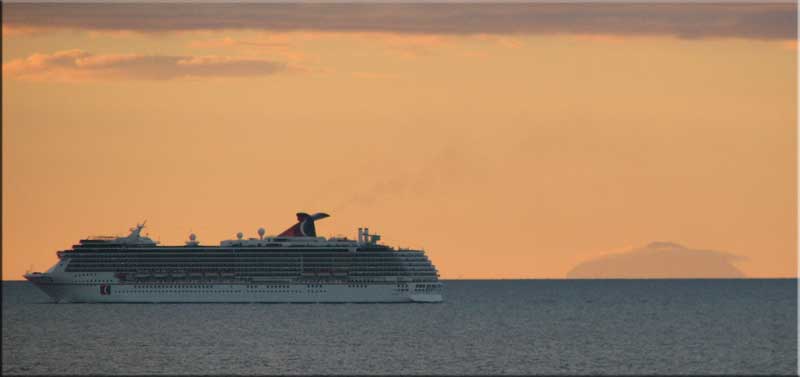 A cruise ship and Nevis on a clear morning
---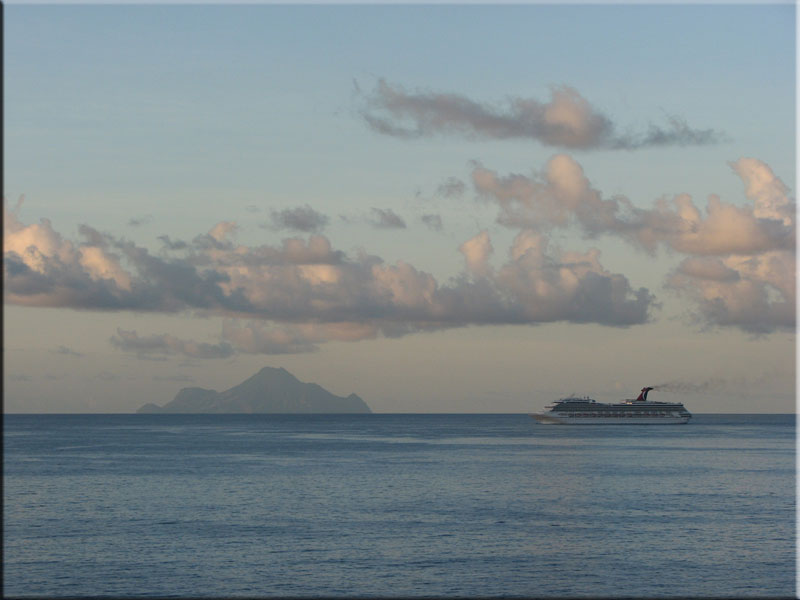 Saba at sunrise
Imagine having your morning coffee with this view
---